Gerbang Logika atau dalam bahasa Inggris disebut dengan Logic Gate adalah dasar pembentuk Sistem Elektronika Digital yang berfungsi untuk mengubah satu atau beberapa Input (masukan) menjadi sebuah sinyal Output (Keluaran) Logis. Gerbang Logika beroperasi berdasarkan sistem bilangan biner yaitu bilangan yang hanya memiliki 2 kode simbol yakni 0 dan 1 dengan menggunakan Teori Aljabar Boolean.
GATE AND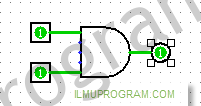 Gerbang AND (GATE AND) memerlukan 2 atau lebih Masukan (Input) untuk menghasilkan hanya 1 Keluaran (Output). Gerbang AND akan menghasilkan Keluaran (Output) Logika 1 jika semua masukan (Input) bernilai Logika 1 dan akan menghasilkan Keluaran (Output) Logika 0 jika salah satu dari masukan (Input) bernilai Logika 0. Simbol yang menandakan Operasi Gerbang Logika AND adalah tanda titik (".") atau tidak memakai tanda sama sekali.
Tabel Kebenaran (Truth Table).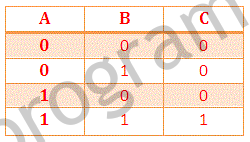 IC TTL 7408
IC TTL adalah IC yang banyak digunakan dalam rangkaian digital karena menggunakan sumber tegangan (VS) antara 4,75 Volt sampai 5,25 Volt. Komponen pembangun IC TTL(transistor-transistor logic) adalah sesuai dengan namanya IC ini berisi beberapa transistor yang digabungkan sehingga membentuk dua keadaan (ON/FF).
Gerbang-gerbang dasar sudah terkemas dalam sebuah IC (Integrated Circuit), untuk gerbang AND digunakan IC tipe 7408.
Jika Anda ingin mencoba membuat rangkaian ini, harga IC TTL 7408 yang berada di pasaran adalah +/- Rp. 3.300 perak, murah bukan ? selamat bereksperimen.